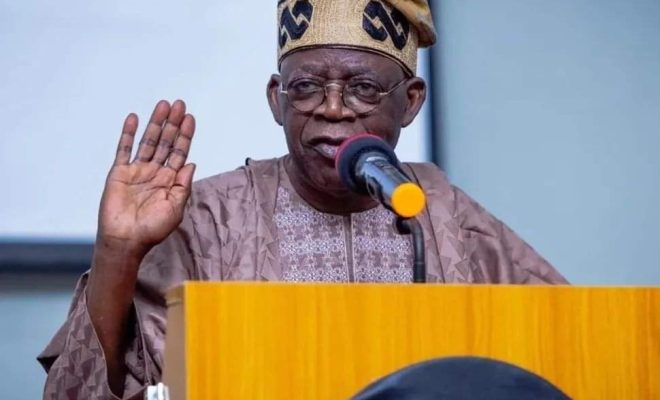 News
Those I Made Are Now Pointing Wrong Fingers at Me – Tinubu
By
|
Former Lagos State governor, Asiwaju Bola Ahmed Tinubu, yesterday said those he made were now pointing accusing fingers at him saying they will fail in their endeavour.
This is just as he also promised to eliminate bandits and terrorists from Nigeria.
Tinubu made the remarks in Minna, Niger State capital, yesterday when he addressed All Progressives Congress (APC) leaders and delegates for this month's convention, held at the Government House Auditorium.
Without mentioning the name of any particular politician, the APC National Leader boasted that he will defeat all of them in the presidential primary election even as he said he had left them to God.
According to him, those pointing the wrong fingers at him are those without track records. "How many governors have they made? How many councillors have they made? How many National Assembly members have they made? I will conquer all of them."
He however prayed that "God Should forgive all of them because they are blind" before insisting that "I am the only one in the race, they (other aspirants) don't know the road, God has designed it that I am the only person you should follow, they don't have my brain."
The presidential aspirant assured Nigerians that with a Tinubu presidency he "will eliminate bandits and terrorists from the country," insisting that "We will overcome this tragedy."
"Bandits will not take over our land with me as president by God's grace," adding that "It is now time to change the calendar of bandits, to tell them it is not professional to go into banditry and terrorism and make ransom collection a source of income."
Tinubu said Nigeria has the potential to be great but requires the right leadership that will take care of the youths and the elderly pointing out that: "I have the brain, I have the unbreakable team that I used to build Lagos, I will use it to transform Nigeria."
Commenting on the criticism about his health status, Tinubu said the job of the president of a country is not to climb mountains or carry bags of cement or a wrestling match.