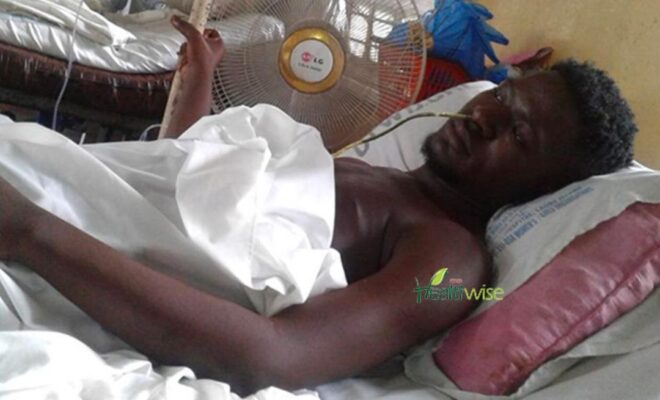 News
Over Three Weeks After, I still Carry Bullets In My Body –Lekki Toll Gate Shooting Survivor
By
|

For survivors of Lekki Toll Gate shooting and their families, Tuesday, October 20 will remain etched in their memories for a long time to come. ADEBAYO FOLORUNSHO-FRANCIS returns to the hospital to see how those on admission are faring
One of the survivors of the shooting that marred the #ENDSARS protest at Lekki Toll Gate in Lagos, Meshack Esanibi, says the bullets he took into his left leg are yet to be extracted over three weeks after the incident that nearly claimed his life.
On October 27, PUNCH HealthWise reported the story of Esanibi who was rushed to the General Hospital, Odan, Lagos Island, after he was allegedly shot on the left leg by soldiers drafted to disperse the #ENDSARS protesters at Lekki Toll Gate.
When PUNCH HealthWise checked up on him again in Ward B of the General Hospital, Esanibi sat on his sick bed.
Looking better than he was two weeks ago, Esanibi said he had been able to establish contact with a relative after his story was published.
The Delta State indigene, however, told our correspondent that he had been experiencing excruciating pain all over his body, especially on the affected limb, noting that the discomfort he felt might be because the bullet had not been extracted from his leg.
"Since I was admitted after the Lekki toll gate shooting incident, the bullet has not been removed. It is still in my leg.
"I don't even know whether the bullet was the cause of the intense pain I am feeling. But I was told by a doctor that I will soon be taken into the theatre again.
Continuing, Esanibi said he had not started using his leg. He, however, said that his gunshot wounds are being attended to regularly.
In a text message to our correspondent, the Medical Director of the hospital, Dr. Ismail Ganikale, said Esanibi desperately needs blood for surgery.
"He needs family members or friends to donate blood. Blood is not sold; someone has to donate for him.
"Arrangements being made for blood should be fruitful soon," Ganikale said in the message.
Esanibi told our correspondent that he was in dire of blood donors before his surgery…