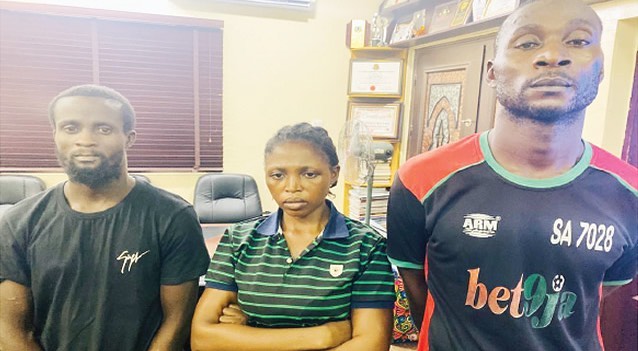 News
Mechanic Loses Customer's Xar During Sex Romp at Brothel
By
|


A mechanic in Lafia, Nasarawa State, John Simon, has got more than he bargained for as a customer's car he drove to a brothel in the New Nyanya area of the state was stolen.
City Round learnt that Simon was in the middle of an overnight romp with a sex worker, Stella Emeerga, when the 2014 Toyota Camry car was taken away by three men in connivance with Emeerga.
It was gathered that Simon, a father of two, stopped by at the brothel while travelling to Abuja to deliver the vehicle to his customer who is a car dealer.
While he was drunk in the brothel, one of the accomplices reportedly sneaked in and picked the car key on the floor.
At dawn, when he did not find the car where it was parked, Simon reported the incident at the New Nyanya Police Station and he and Emeerga were arrested.
One of the suspects, Monday Francis, recently arrested by the operatives owned up to the crime during an interview with City Round during the week.
The 30-year-old suspect said the theft was planned together with Emeerga, noting that the car was with a member of the gang who is still at large.
He stated, "We were four including Stella (Emeerga) that planned to steal the car when the driver (Simon) arrived at the brothel. We planned to make it look as if Stella was innocent. I pretended that I wanted water from her and she came out of her room while one of us quietly opened the door and took the car key.
Stella told us that the man was drunk and that we could try. Dodo and Ezekiel took the car away. They gave it to one buyer who is on the run. Boys hang around the brothel to steal from anyone who is careless. Most of them will sleep off. We will enter their rooms and steal their valuables."
But Stella Emeerga, 25, who said Simon had been her customer for over a year, denied conniving with the gang to steal the car.
She said she did not realise the vehicle had been stolen until in the morning when she discovered that a piece of cloth she used to block a big hole on her door had been removed.