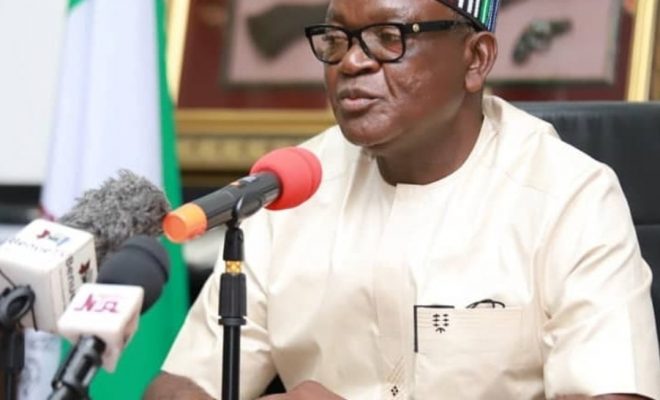 News
Justice, Equity and Fairness Has Been Murdered By Buhari's Government – Samue Otom
By
|
Justice, equity, fairness has been murdered by Presidency — Gov Ortom
In politics, you will always expect attack from your opponents. Even when there's nothing to say, they will find a way to portray you as a bad person in order to generate discussion and try to castigate you and make you feel bad before the people.
But I've always said I'll not be distracted. I had the mandate in 2015, I had another one in 2019; my commitment is the renewed effort to ensure the dividend of democracy to the people. My stand against the injustice, unfairness and inequity that is going on by the federal government of Nigeria, headed by the presidency has orchestrated the renewed attack on me.
They feel that they will send a narrative that will impact negatively on me, but I think that our people are wiser, more than they think. And I'm more committed, even with the attacks, to ensuring that we have justice. Without justice, there can be no peace in the land. And I'm more prepared, just like Martin Luther said; "if I keep quiet in the face of injustice, then I am worse than the people who perpetrate the injustice."
I am not prepared to be part of that, my people require justice. I'm appealing and begging the presidency and those people who are not happy with the kinds of things I say to ensure that they give justice to my people. If they feel offended, I'm more offended than them and I will not be distracted by what they say.
That alone will not make me to be silent. I will continue to say it as long as God gives me the strength and the spirit to continue in this life. I will continue to say that this presidency has murdered justice, murdered equity and murdered fairness in this country. And that's why you see various agitations.
I don't support what Kanu is doing, I don't support what Igboho is doing, I don't support it because I believe in the unity of our country Nigeria. It is the presidency that is promoting this unwanted agitation for the separation of this country. So the president should come out and give justice because he cannot deny that he is the president of this country.
He is the leader of this country, he has the mandate of our people to govern at this time so everything rests on him. If the head is not right, nothing will be right. So I am saying that Buhari should rise up; it's not enough to raise your ministers, raise those who are working with you, raise those you have appointed to take crumbs from the table of the presidency and then insult patriotic people who want justice, equity and fairness for their people.
If I don't speak, who will speak? I was elected popularly by the people of Benue State in 2015 and in 2019. So if I can't speak who will speak for Benue people? So I stand committed even to the extent of those who are oppressed in other parts of the country that people cannot speak on their behalf; I speak for those oppressed people in this country.
What is happening in Nigeria is not right, things are not going well, the President must arise. It should not be enough to raise people to insult me and to say things that are not warranted. If I did not perform in 2015, my people wouldn't have elected me in 2019. If I did not perform in 2019 till date, my people wouldn't have continuously passed vote of confidence on me.
Those people who are in Abuja and are paid and are eating crumbs with appointees of government, let them come to Benue state and issue press statements, let me see the reaction of the people in Benue state. For me, I'm committed in delivering dividends of democracy.