Update: "There Are Many More Of My Records For You To Break," George Weah congratulates Osimhen🇳🇬💪🏿🦅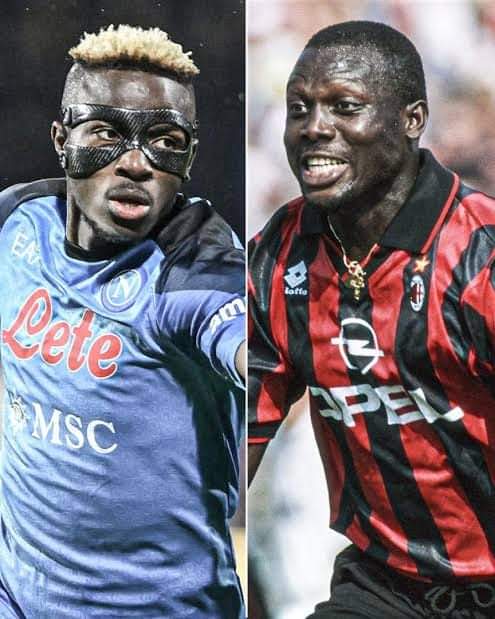 My heartfelt congratulations to you, Victor Osimhen! I am very glad that you have accomplished a major milestone in your football career, after scoring your 47th goal in the Italian Serie A league.
The records show that with this goal, which you netted on Sunday, May 7, 2023 when your team Napoli went against Fiorentina, effectively makes you the African with the highest scoring record in the Italian Serie A league – surpassing my own account of 46 goals.
I am so proud of your exploits and congratulate you on this remarkable achievement which is a result of your hard work, dedication and tenacity. I am also pleased with your kind words of honor in tribute to me upon reaching such a giant milestone.
However, I want to admonish you not be contented. There are many more of my records for you to break. I wish you go on to achieve greater success.
I watched your goal against Udinese when your 52nd -minute header won the Scudetto for Napoli. Your movement, your passion, your determination and hunger brought back many memories to me. I wait for your 100th Goal in all competitions in Italy so that you can celebrate (but don't remove your shirt like I did or you will get a Yellow Card) 😀
You have won one Scudetto. Great! When I won my first Scudetto with Milan, I said to myself, why one, why not two? I went on to win another Scudetto with Milan. I went on to win the Ballon D'or. So why not two or more for you Victor? The sky is your limit. With your dedication, commitment, humility, hard work, you can conquer the World. Africa needs another World Best. Africa needs another European Best. You Victor, can deliver that for us.
The records that I set were meant not as a challenge, but as a motivation to you and other African Players. We have the best of talents. You have to remain humble, tenacious and focused. Don't be distracted.
There are many great African players in European leagues. They are already up against the hurdles of playing against many odds in leagues and stadiums so far away from home which present challenges for them; so to beat the odds and climb to the top is worth our commendation.
May you continue to surge forward. My prayers are with you. My blessings are also with you. I am rooting for you Victor!
H.E. George Manneh Weah
LEGEND
President of the Republic of Liberia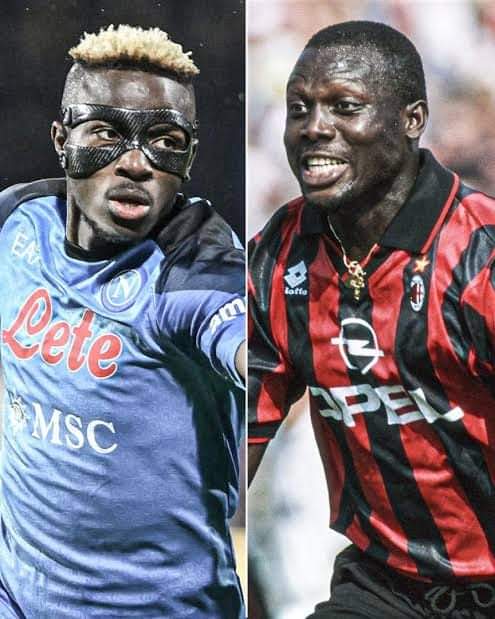 Niger Junta Threatens To Kill Deposed President Bazoum If U.S, ECOWAS Intervene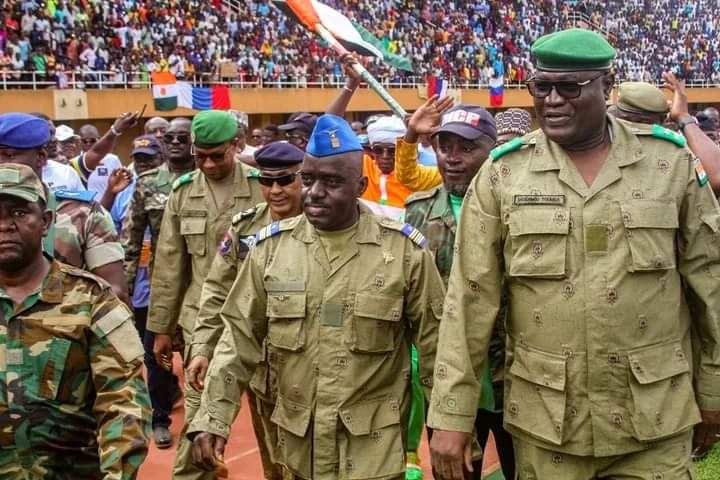 Niger's junta told a top U.S. diplomat that they would kill deposed President Mohamed Bazoum if neighboring countries attempted any military intervention to restore his rule, two Western officials told The Associated Press.
Representatives of the junta told U.S. Under Secretary of State Victoria Nuland of the threat to Bazoum during her visit to the country this week, a Western military official said, speaking on condition of anonymity because of the sensitivity of the situation.
A U.S. official confirmed that account, also speaking on condition of anonymity, because they were not authorized to speak to the media.
Bazoum, who was deposed on July 26, says he is being held hostage at his residence.
The regional ECOWAS bloc said Thursday it had directed the deployment of a "standby force" to restore democracy in Niger after the coup. However, ECOWAS officials gave few details and failed to spell out the make-up, location and proposed date of deployment for any military intervention force.
West African heads of state met in the Nigerian capital, Abuja, to discuss next steps after Niger military junta defied their deadline of Sunday to reinstate Bazoum but analysts say the bloc may be running out of options as support fades for a military intervention.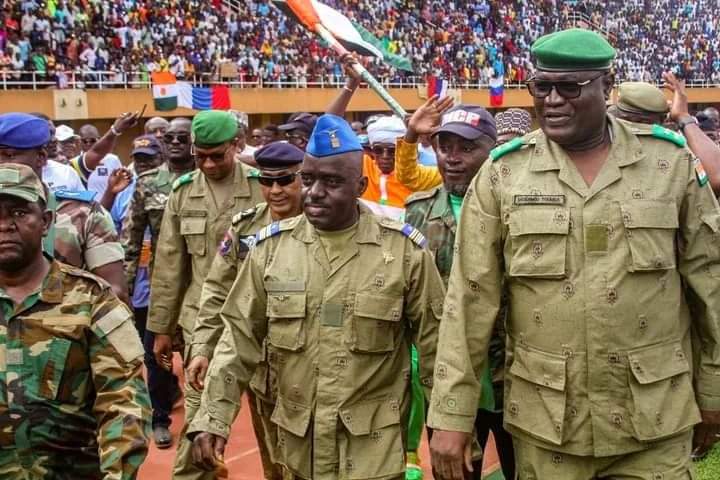 Lai Mohammed Gets New International Job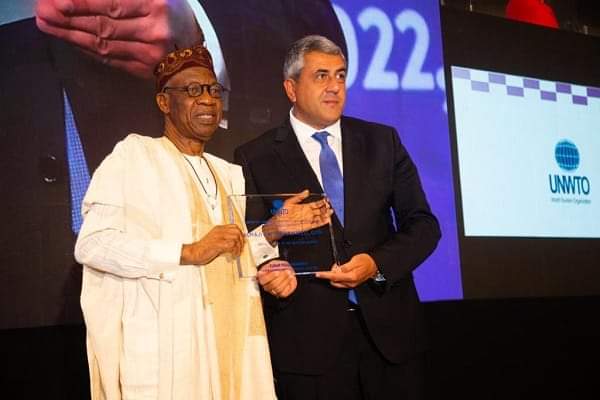 Secretary-General of the United Nations World Tourism Organisation (UNWTO) Zurab Pololikashvili has appointed immediate-past Minister of information, Lai Mohammed as his special advisor. Mohammed's appointment was announced at the opening session of the 66th UNWTO Commission for Africa (CAF) underway in Mauritius, a statement said.
This comes a month after Mohammed got appointed as the managing partner of an international lobbying firm, Ballard Partners
The former Minister is expected to help the Secretary-General pursue his objective of making Africa a key region for the global tourism economy through his "Agenda for Africa programme".
Speaking after his appointment, Mohammed said he is honoured to be the first Nigerian to take up the role.
He said: "I stand before you, deeply touched and inspired by your generous words of confidence and trust.
"With so much gratitude for the confidence placed in me by the Secretary General of the United Nations World Tourism Organization (UNWTO), Mr. Zurab Pololikashivili and with an unswerving resolve to honour that trust, I humbly accept the appointment as the Special Advisor on Tourism to the Secretary General of this great Organization.
"I am deeply honoured to become the first Nigerian to serve in this capacity. Nigeria is dynamic and diverse in terms of natural and human resources in the areas of tourism, culture, creative industries, technology and other aspects of our national economy.
"Having come so far and rising still, the Nigeria and Africa region in general is living and shaping the full range of achievements and challenges of our current times."It is therefore inspiring to take on more responsibilities that will guide the development of tourism in a more responsible and sustainable manner."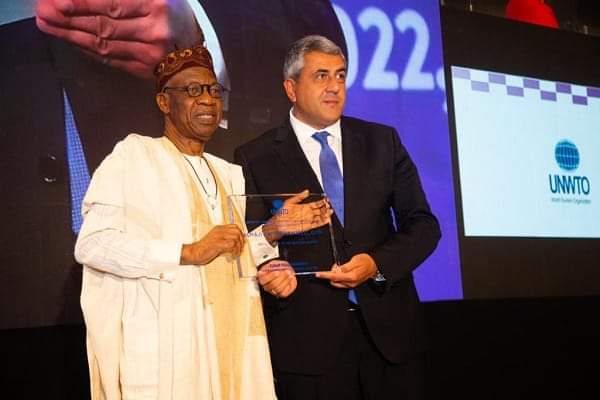 I like Burna Boy, Davido but Wizkid my favourite— British actor Boyega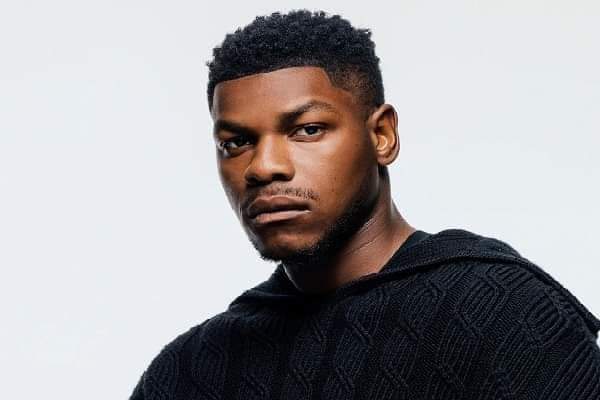 In a recent podcast interview on Netflix, British actor John Boyega, who hails from Nigeria, expressed admiration for several Nigerian artistes but there is one that holds a special place in his heart – Wizkid.
Among the talented musicians such as Burna Boy and Davido, whom Boyega enjoys listening to, Wizkid stands out as his absolute favorite.
The British Nigerian-born thespian revealed that his affection for Wizkid dates back to the beginning, making him the artist he has followed the longest.
When asked about his preferred Nigerian artist, Boyega confidently stated, "I would say Wiz, Wizkid. I have always loved Wiz."
This heartfelt admiration for Wizkid showcases Boyega's genuine appreciation for the artist's musical talent and resonates with fans who understand the profound impact an artist can have on someone's life.